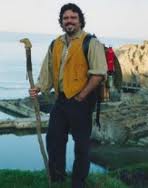 Stefan Baumann is an acclaimed landscape and wildlife artist who paints in oils on location and from his studio at the Grand View Ranch in Mount Shasta, California. He grew up in the beautiful forest of Lake Tahoe, California, and after high school, he studied art and architectural history for a year at Stanford University in 1980, and continued studying art and painting at the San Francisco Academy of Art University.  During this time, he began Baumann Fine Art, a business enterprise that promoted landscape painting.
Stefan Baumann believes that "Anyone can learn how to paint; all it takes is desire." He has been an artist and is an oil painting instructor for the past 35 years and has taught the fine art of oil painting to enthusiastic art students in the San Francisco Bay Area as well as in Southern Oregon, and in Northern California.  He says that artists who paint from life, which includes still life painting in a studio and plein air painting on location, have a distinct advantage when creating original artwork because they can paint what they see and feel as they apply their paint to a canvas. This personal experience with the subject is not possible when copying another's work or painting from the limited image of a photograph.  Plein air painting utilizes a painting application technique called "alla prima," or wet on wet, in which the entire painting is completed before the paint dries. An alla prima painting can be completed in one or more sessions, depending of the type of paints used and their respective drying time; but usually a painting is virtually completed in one session, making it uniquely suited to painting on location.
Stefan's plein air paintings include amazing effects of light, shadow, color and the natural beauty that he sees in American wilderness landscapes, wildlife, and in the architectural styles of older houses and barns.  Through his work, viewers enjoy the opportunity to see spectacular places in America that are too remote and inaccessible for most to visit themselves.  Baumann's painting style has been classified by art collectors and galleries as "Romantic Realism with Luminism." Pioneers of this beautiful genre of landscape painting include Frederic Church, Thomas Cole,  and Albert Bierstadt  of the Hudson River School.  They were East Coast artists who journeyed to the Western United States  to sketch and paint amazing views of the American wilderness, and then they returned to their home studios to paint stunning detailed versions of these vistas on room-sized canvases.
Similarily,  Stefan Baumann reveals the true spirit of nature by transporting the viewer to distant lands that have gone unseen and undisturbed on his canvases. Baumann's passion for painting is fueled by his fascination with and close observation of nature's sublime beauty and mood.  Baumann's paintings speak for themselves ~ elegant and mysterious, exciting and bold, every landscape and wildlife painting captures a feeling, a sense of place, and the magic of light.
View Baumann's Paintings
See for yourself why Stefan Baumann's paintings are in such demand by art lovers and collectors around the world as you  browse through this beautiful gallery which, when completed, will include nearly every painting in Stefan Baumann's catalog.
PBS and The Grand View
In 2006,  Stefan Baumann began hosting the PBS painting series "The Grand View: America's National Parks Through the Eyes of an Artist." Touring the vast American National Parks system, Baumann hiked deep into the United States' famous and diverse National Parks with paints, canvases and a video camera to capture on film and share his passion for nature and art at its source. In each PBS episode, millions of people can witness the magic Stefan portrays on canvas as he applies the realist theories of earlier American masters of landscape painting in his environmentally inspired paintings.
The Grand View's coverage of Baumann's treks encompasses every aspect of the park, focusing on local plants, wildlife, and the geologic and human history that have had an impact on the region. Through the show, Baumann discusses how his art reflects his commitment to ecology and the preservation of the natural environment as he shares his painting techniques with viewers seeking to learn more about the art of painting. With the widespread success of The Grand View, Baumann has captured the hearts and imaginations of a generation by translating his love of nature into luminous paintings with brilliant, saturated color that transcend conventional landscapes and wildlife art. Currently the series is airing on CreateTV.
Observations about Painting
Stefan Baumann introduces his viewers to his personal style of art instruction through The Grand View,  that he continues in greater depth through his painting classes and workshops. Currently Baumann offers weekly art classes in Redding, California and Medford in southern Oregon. In these oil painting classes Stefan teaches basic drawing skills, color principles, composition, and painting techniques. Learn More…
Baumann also offers three-day outdoor painting workshops. Join him for a weekend of painting at The Grand View Ranch to discover the secrets of painting hidden lakes, vast meadows, grand trees, sunsets, and the famous summit of Mount Shasta herself during the daytime hours, and concluding with informative critiques of all the day's paintings in the evenings. Baumann shares his philosophies of painting, and talks about the use of composition, color, highlights and value as well as many helpful tips about plein air painting. Stefan  discusses his "Power To Create," course including his views on art, and shares behind the scenes experiences when he produced his popular PBS television series. Learn More…
For those who can't travel to Mount Shasta to attend a painting workshops or don't live close to a city where he teaches art classes, Baumann has written an eBook containing a wealth of information about painting. Download Stefan Baumann's eBook on learning how to paint HERE.
In addition, YouTube video excerpts of Stefan Baumann painting on location at 20 National Parks provide those who want to see examples of painting instruction that feature him demonstrating the painting techniques he discusses. Choose an art instruction video clip to watch HERE.
Baumann has also created in-depth painting instruction DVDs that were painted at each of the National Park locations on PBS television. Baumann teaches as he paints en plein air in visually stunning locations, including the Grand Canyon, Yellowstone National Park, Yosemite, and more.  These DVDs are available for interested viewers and serious students of painting and if you are interested,  purchase Baumann's full-length painting instruction DVDs HERE.
Collecting and Investing in Baumann's Paintings
In Stefan Baumann's artwork, each painting is a vivid manifestation of his personal relationship with nature. Through his mastery of light, color, and artful composition, Baumann invites viewers to experience nature in its purity from the comfort of their homes and offices. It is no wonder that for many years distinguished American collectors, including former American presidents and financial icons, have sought out his work. You can join this exclusive group of collectors with the purchase of an original canvas painted in oil by Stefan Baumann. View a gallery of his currently available paintings here, and read more about collecting art as an investment strategy.
Be the first to know when Baumann completes a new painting available for purchase!  Collectors may register to be notified HERE when Stefan Baumann completes an exciting original new painting.