Autumn Plein Air Workshop
in Mount Shasta

                                     October  2018

This Three Day  Workshop with Stefan Baumann
will impact the way you paint forever!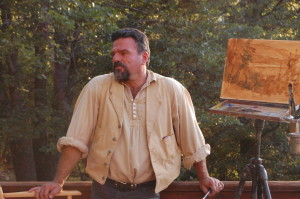 These Autumn Plein Air Workshops in Mount Shasta are designed for artists who want to learn  techniques, skills, and acquire a thorough understanding of how to paint en plein air like a Master. In this Workshop we will look at concepts through different methods of seeing, applying paint and we will focus on completing all the paintings with Alla Prima painting methods with the goal of signing your paintings on location. In addition, Stefan Baumann will provide answers to your individual questions you may have about painting in general and also, the plein air paintings that you paint on location. The focus is on understanding the theoretical and practical principles of painting.
To Register For A Workshop
click here
The cost of the workshop is $350.00 with lunch on Friday and Saturday provided.  A non-refundable deposit fee of $150.00 payable to Stefan Baumann will reserve your space in the workshop when you register.  You may pay the deposit or the full amount through pay-pal, by check, or by calling the number below.  If you have paid the deposit, the balance of the fees are payable at the workshop.  There is an additional $50.00 fee for non-painters who have lunches at the workshop.

Space is limited, and admission is on a first come, first served basis.  In the event that you are unable to attend the workshop, please notify us, and we will apply your deposit to a future workshop.
Please complete the information above and reserve your space now.
The Grand View Ranch will not share any private information with other parties for any reason.