"Romantic Luminism" – An American Art Style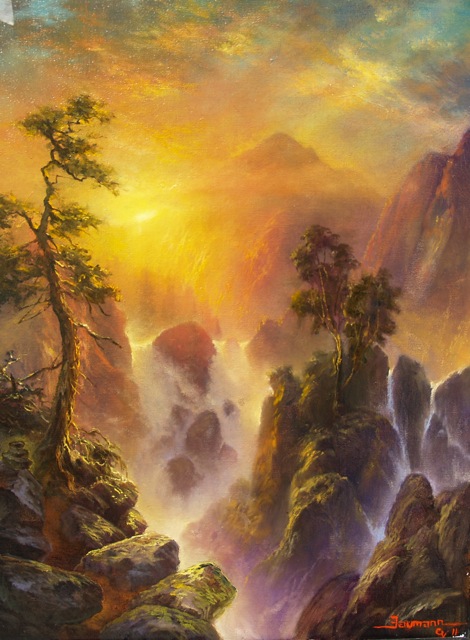 "Box Canyon" by Stefan Baumann

Art collectors and galleries have classified my work as Romantic Luminism.  This painting style is a good example of American Romantic Luminism because it features the effect of light in a landscape using aerial perspective (how atmospheric conditions influence our perception of objects in the distance).  They have said that I focus light in my paintings in ways that captures the mood and splendor of the landscape and draws the viewer into the essence of the painting.  I have used this method in my painting for years.  I include a center of interest using the luminosity of sunlight blended with the softness of tone, concealing some of my brush strokes to allow the subtle effects of light to infuse the local color of the subject.

Modern painters attempt to create paintings that impress the viewers with clever uses of the brush.  Most of these paintings look the same, with one stroke here and a stroke there, with palette colors that define the painting rather than effectively using the power of light in their work.  These artists produce boring work that lacks inspiration and the feeling of life.  Remember, it is not what you do but how well you do it.  Spend some time every day learning more ways to bring your paintings to life.

If you want to create a luminous effect in your painting, key the painting to cool colors and darker values.  The area of light is best positioned within the middle third portion of your canvas; it can be anywhere in your painting as long as the viewer clearly focuses on the that spot of light.  This spot should be warm and bright with paint applied thickly but not overworked.  Direct all the detail and contrast close to the light but try not to highlight anything other than your focal point.

This exercise will help you to "see" differently.  When you go for a walk or drive, look for the light around you, not the objects.  Try not to see forms but focus only on the intensity of the infusion of light around you.  Isolate the light that is the central focal point, and dull all other light by at least five values.  This understanding of "seeing" will increase your ability to bring an infusion of light into your paintings.  It may take some time to learn, but it will make a dramatic difference in your work.

"Unless you try to do something beyond what you have already mastered, you will never grow."
Ralph Waldo Emerson
____________________________________________________
Plein air and Alla Prima artist Stefan Baumann, host of  the PBS painting series "The Grand View, America's National Park through the eyes of an artist" and author of "Observations Of Art and Nature," travels in his vintage travel trailer painting America's western landscape. Baumann paints outdoors with oils and canvas capturing stunning vistas, wildlife, western landscapes, National Parks and still life, thrilling art collectors throughout the world.  He has many collectors acquiring his paintings as investment internationally. His painting style is called Romantic Realism with Lumunism and the extraordinary way he captures the effect of light is a truly an American Style used to paint the Western Landscape.  He can be seen painting in Yellowstone, Yosemite and in the Grand Canyon and Baumann's "how to paint" DVDs filmed on location in the National Parks are the very best on the market.