Plein Air Workshops in Mt. Shasta
The Grand View Ranch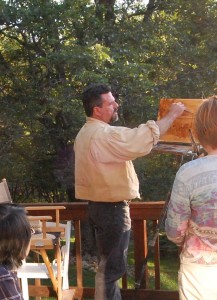 A Three Day Painting Workshops that will inspire the way you paint forever!
    Discover the secrets of painting in this three day weekend workshop.
You will be amazed by how much you learn and the breakthroughs you will experience in your art.
Workshops are held for every level of experience.
Come join Stefan Baumann, the host of the PBS series THE GRAND VIEW, for a weekend of painting in beautiful Mt. Shasta and at The Grand View Ranch.  Discover the secrets of painting hidden lakes, vast meadows, grand trees, sunsets, and the famous Mt. Shasta summit herself.  In the evening, we conclude the day by sharing and critiquing all the paintings that were done that day.  You will learn Baumann's philosophies of painting, composition, color, value, and many helpful hints about plein air painting.  Stefan will also discuss "The Power To Create" which includes his views on art, and his experiences behind the scenes of his popular television series.  He is committed to providing and demonstrating valuable and useful insights, techniques and practices to enhance each participants experience at the workshop.
With Stefan Baumann's Workshops, you will experience measurable and lasting changes in your art.  His workshops contain a step-by-step process that will help you identify how to paint outdoors, how to break through barriers and learn ways to transform your painting. Baumann's workshops are delivered with incredible passion, power, and playfulness.  The process is not only informative, but  enjoyable and inspiring as well.
In Baumann's workshops, he will personally coach you as you begin to implement the proven strategies and tools that will help you achieve the results you want and deserve, faster than you may have ever imagined possible!
Tuition $350
Tuition includes three days of painting outdoors with demonstrations by Baumann on the secrets of painting on location.  Stefan will critique students' art work.  Tuition does not include lodging and participants are required to find their own accommodations.
Deposit of $150 (non-refundable) is required to reserve your space in this workshop.  Space is limited, and there is a "first come, first served" basis.
Make checks payable to Stefan Baumann and mail to: 
The Grand View Ranch
1511 Maple Dr,
Hammond Ranch CA 96094 

Payment can be made by credit card by calling
The Grand View Ranch at 415-606-9074.
Lodging
Comfort Inn 1844 Shastina Dr. Weed CA 96094 530-938-1982
Best Western Tree House Motel 111 Morgan Way, Mt Shasta, CA 96067 (530) 926-3101
Both Motels are just a few miles from The Grand View Ranch. Reservations are required in advance.
The tuition for the weekend workshop does not include lodging.
To Register For A Workshop:
Click Here
The cost of the workshop is $350.00 with lunch on Friday and Saturday provided.  A non-refundable deposit fee of $150.00 payable to Stefan Baumann will reserve your space in the workshop when you register.  You may pay the deposit or the full amount through pay-pal, by check, or by calling the number below.  If you have paid the deposit, the balance of the fees are payable at the workshop.  There is an additional $50.00 fee for non-painters who have lunches at the workshop.

Space is limited, and admission is on a first come, first served basis.  In the event that you are unable to attend the workshop, please notify us, and we will apply your deposit to a future workshop.
Please complete the information above and reserve your space now.
The Grand View Ranch will not share any private information with other parties for any reason.