January 30, 2013 Press Release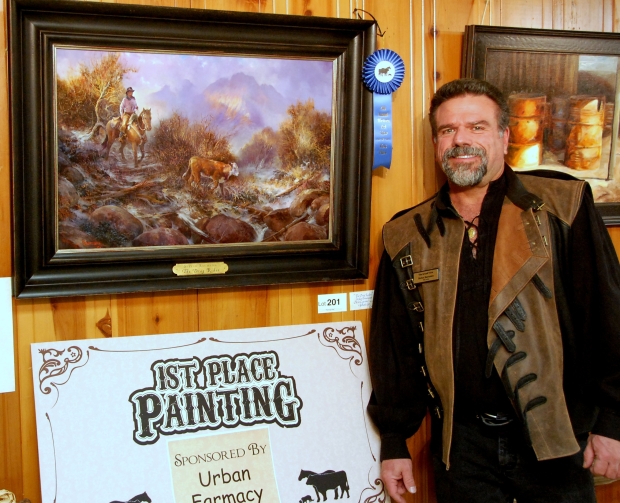 FOR IMMEDIATE RELEASE
CONTACT: Stefan Baumann or Kris Baxter  
RED BLUFF, California (January  30, 2014) Local artist Stefan Baumann won a Blue Ribbon and took 1st place in the Painting Division at the Red Bluff Bull & Gelding Sale's Western Art Show.  His landscape oil painting titled "The Drag Rider" tells the visual story of a rider on horseback rounding up a calf that was lost in the high chaparral.  This painting  dramatically portrays the end of a day in the life of a cowboy with Baumann's sensitive and effective use of light throughout the painting.  Stefan Baumann is a gifted award-winning artist and art instructor who offers oil painting classes in Redding, Mt. Shasta, and Medford.  His PBS painting show called "The Grand View" can be seen locally on Saturdays on KIXE Create TV.
The annual Red Bluff Western Art Show takes place at the Tehama District Fairgrounds and features selected works of painters and artisans in an exhibition of the "American Western Lifestyle and Its People." 
Image of award winning painting (6.3 Mb pdf file, RGB image)
Image of Stefan Baumann with painting and blue ribbon (2314 x 1878 .jpg file)
The Grand View Studio is located near Mt. Shasta, California 96094. For more information about Stefan Baumann's exhibitions, classes, programs, and workshops, please call 800.511.1337 or visit www.stefanbaumann.com, or call Kris Baxter at 530-925-0034 or email her at kris@baxters.net.